5 stories we've been watching in the European BESS market
The European market is rocketing ahead with major targets set and milestones reached almost every month. This summer, here are 5 key stories that we've watched that we believe set the tone for things to come.
1. Spain awards EUR 280m in grants for energy storage projects.
Spain has some of the most ambitious renewables targets in Europe. To enable this transition the Spanish government has released EUR 280m in grants and new regulations to allow Battery Energy Storage Systems (BESS) battery storage to participate in the ancillary services market. Of these grants, EUR 150m is allocated for BESS, EUR 30m for thermal projects, and EUR 100m specifically targeted at pumped hydro. Projects are to be delivered by June 2026, bar pumped hydro that has an extension to December 2030.
The maximum award is EUR 50m per project. These projects are in line with Spain's intention to eliminate economic curtailment in energy generation whilst achieving 81% renewable generation by 2030. Read more on the government grants from Renewablesnow here and Energy Storage News here and Spain's wider electricity grid reforms from Aurora Insights here.
2. European Commission approval for EUR 1.1b in state aid for energy storage in Hungary
The European Commission has approved Hungary's EUR 1.1b state aid energy storage scheme, supporting the installation of 800MW/1,600MWh of large-scale electricity storage projects (equivalent to roughly 32,000 EV batteries[1]) This initiative, under the EU's Temporary Crisis and Transition Framework, aims to bolster sectors vital to the net-zero transition. Margrethe Vestager of the European Commission highlighted the scheme's role in enhancing the flexibility of Hungary's electricity system. Open to most companies in Hungary's energy sector and neighbouring states, projects will be chosen via competitive bidding, with contracts awarded by 2024. The scheme aligns with Hungary's goal of sourcing 20% energy from renewables and 90% from low carbon sources by 2030, with nuclear accounting for a large proportion of this.
Read more from Power Technology here.
3. European Parliaments Electricity Market Design is good, but must be iterated on
The European Parliament's backing of the new Electricity Market Design is a landmark move, but it's not without its flaws. Two key European trade groups, EASE and the Energy Storage Coalition, argue it doesn't go far enough in championing key energy storage technologies that are critical for a green transition. While the reforms address Europe's energy vulnerabilities and advocate decarbonisation, they underscore the pivotal role of flexibility in energy storage. EASE has recognised energy storage as indispensable for Europe's ambitious net-zero 2050 goal. Read more from Energy-storage News here.
4. LCP Delta and EASE predict a 2000% increase in installed power capacity for BESS by 2050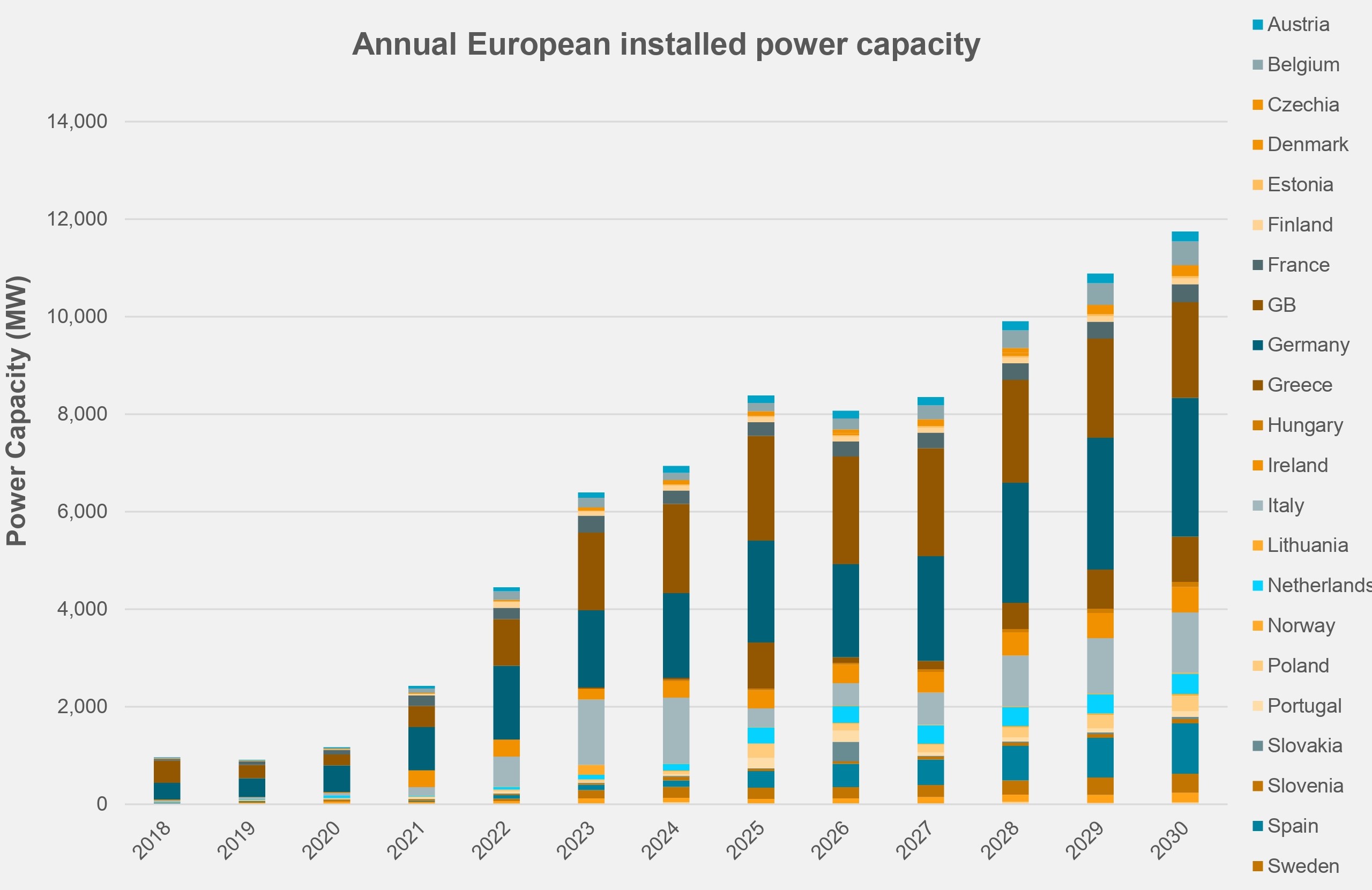 Figure from LCP Delta / EASE (LINK)
Europe's battery power capacity hit 4.5GW in 2022, with projections to reach 18 GW in 2030 and 95GW by 2050, according to LCP Delta, Aurora Energy Research, and Rystad Energy. This compares to a forecast in the US of 20GW by 2030 and 130GW by 2050[2]. Last year saw the addition of 1.9GW of grid-scale power in Europe with a predicted increase to over 6GW in 2023. By 2050, comparatively slow (dis)charging four-hour battery systems are expected to represent 61% of total installations. The change to longer duration batteries suggests greater participation in arbitrage markets over longer time periods[3]. Top markets include Germany, Great Britain, Greece, Ireland, and Italy. The European Commission emphasizes energy storage's essential role in decarbonization, with significant policy measures introduced in 2023. Read more at EASE here.
5. High price volatility in the Netherlands leads to a surge in battery storage projects
Between 1 and 2pm on April 19 2023 the Netherlands experienced a record for negative energy prices at EUR – 739.96 per MWh with the total number hours of negative electricity in 2023 (over 101) already exceeding the 2022 total (81). The record volatility in prices has called for an installed BESS power capacity in the Netherlands of 20 GW by 2030. Read more from the NLTimes here and Markets Insider here.
[1] https://www.eonenergy.com/electric-vehicle-charging/running-costs-and-benefits/battery-capacity-and-lifespan.html#:~:text=2-,Electric%20car%20battery%20capacity,direct%20impact%20on%20its%20range.
[2] https://www.rystadenergy.com/news/new-battery-storage-capacity-to-surpass-400-gwh-per-year-by-2030-10-times-current
[3] Review of Stationary Energy Storage Systems Applications, Their Placement, and Techno-Economic Potential | SpringerLink